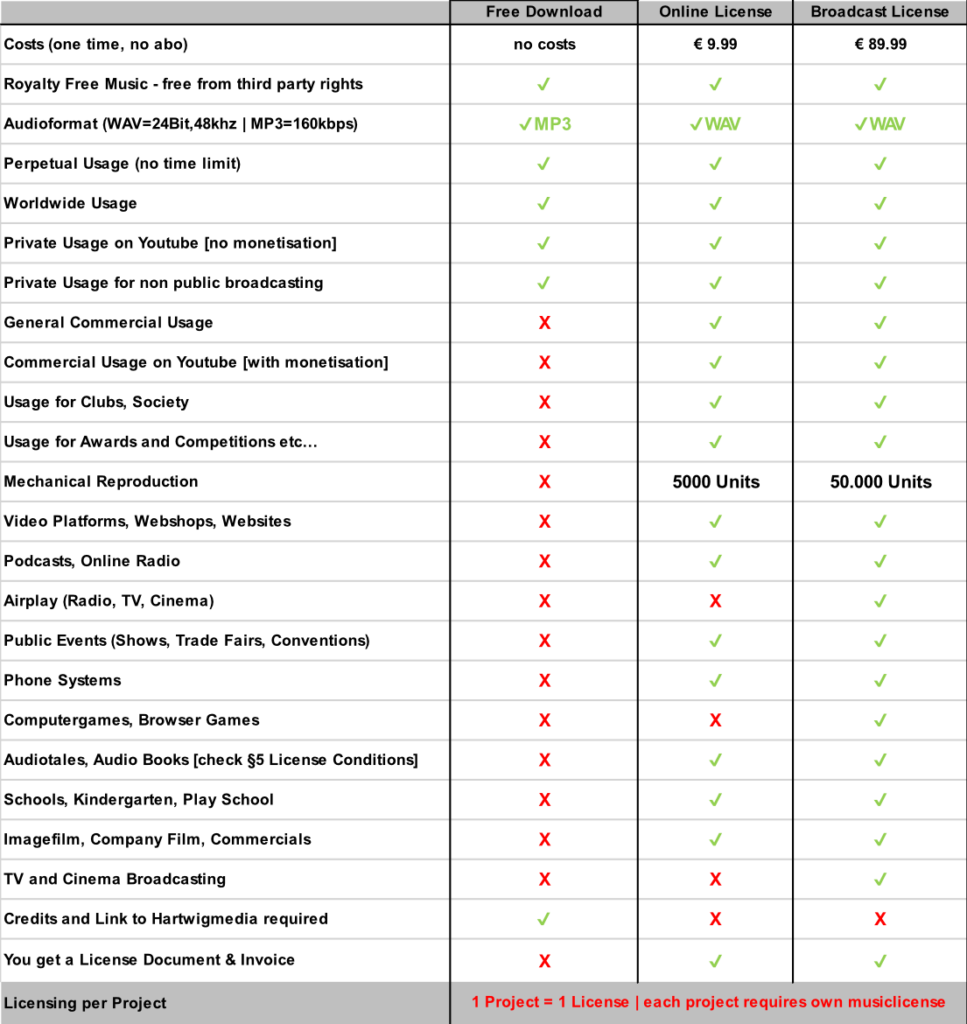 General Terms of Service and License Agreements for Musicproductions (Version October 2019)
This Agreement governs the terms by which clients of Hartwigmedia obtain the right to use Audio Content (as defined below) provided through the web site located at www.Hartwigmedia.com
1.1 The copyright of all music recordings offered by Hartwigmedia are protected by the copyright law of the Federal Republic of Germany and international agreements. The client of Hartwigmedia obtains a worldwide, perpetual, non-sublicenseable, non-exclusive usage right of the music as defined below. The client does not become the owner of the music but obtains a usage right.
1.2 Music Productions offered by Hartwigmedia are royalty free and not registered at any PRO (performing rights organisation) worldwide and are free of rights and claims of any third persons. These information are provided by the particular composer and owner of the music rights.
Therefore the client has not to pay any additional fees to a PRO. Also performing rights organisations are not authorized to collect any royalties.
As Hartwigmedia relies on the information provided by the composers, Hartwigmedia can not been made liable to any losses or costs occured by a false information regarding the registration of the music of a composer at a PRO.
Hartwigmedia creates for every commercial license a licensedocument for the licensee, free of charge.
1.3 The licensee is allowed to use the licensed audioproductions on a per project base for one customer of the licensee and for one project of the licensee´s customer.
The licensee is allowed to use the licensed audioproductions for an unlimited amount of own projects created for the licensee himself excluding a third party participation. (e.g. advertising for own video channel)
2 License Options & Project Framwork
2.1 By paying the full license fee, Hartwigmedia grants the licensee a worldwide, perpetual, non-exclusive, non-sublicenseable usage right of the music.
2.2 The audio files may be used within the following specified project frameworks that has to be specified during the purchase procedure by the client.
2.2.1 Online License
– Advertisements, promotions and general use for broadcasting via the Internet:
– Internet, Websites, Online Shops
– Mechanical Replications on CD/DVD/USB up to 5.000 units
– Mobile Applications, Apps up to 5.000 downloads
– Videoportals (like Youtube, Vimeo, Myvideo)
– Company Videos, Company Presentations, Imagefilms, Industrialfilm
– Radio Broadcast, Podcasts
– Phone on hold music, Phonesystems
– Online education
– Public Events & Point of Sale: Fashion Shows, Trade Fairs, Hotels, Restaurants, Bars, Discotheque, Point of Sale (POS)
2.2.2 Media License
– Advertisements and Promotion Campaigns on Television (regional, national, international), Cinemas and Theaters
– DVD/CD/USB replication and distribution of TV Films, Shows & Series, Motion Pictures up to 50.000 units
– Apps up to 50.000 downloads
– Motion Picture Advertising for TV Films, Shows & Series, Cinema
– General use in TV shows, TV Soaps, TV Series and Motion Pictures (except as theme)
– General use in Computergames and Browser- Online Games (all platforms)
– All possibilities stated in the Online License (2.3.1) are included within the Media License and do not have to be licensed in addition
2.2.3 Free Download License
Hartwigmedia offers a free of charge version of the audioproductions via direct download. These can be used free of charge as Testversion for non-commercial and private projects as specified later.
As non-commercial, Hartwigmedia declares all projects that have not the intention to earn money or are generating profit of any kind.
Free usage for private and non-commercial projects
Free usage on Youtube Channels WITHOUT earning money (like commercial banners and advertising)
As Tryout or Layout for Testing purposes
Free usage for private and non-commercial, not public events like Diashows
Monetization for Youtube Channels is not allowed
2.3. The concession of rights of usage also includes the right to convert the music technically into the required data and audio format. Also it is allowed to shorten, edit and alter the music. A modification of the music piece has to be done in a way that not changes the character of the music track.
2.4 The format of the music is: MP3, 320kbps, Stereo. Download comes in Zipformat (unpack with free software Winrar, Winzip, 7 Zip etc..)
2.5 Registration at the website www.Hartwigmedia.com is free of charge. Registration is required to download the music files.
3.1 The music may not be used, circulated or made available within music archives or music data banks. In addition it is strictly prohibited to trade or place the music in peer to peer (p2p) networks or direct downoad providers like eMule, Bittorrent, Rapidshare etc…
3.2 The client is not allowed to reproduce music or parts of them for the purpose of resale as a standalone product or relicensing. The audio material always has been combined with another media like Trailer, Film, Multimedia Application and so forth. This also applies for modified music tracks as described in §2.4
3.3 The client is not permitted to use the audio material in a way that incorporates material which the client does not own or has authority from a third party owner to use. In addition it is prohibited to use the provided audio material as theme song for any motion picture, television, radio, web or multimedia program or show.
It is not permitted to use the audioproductions in so called "Website Templates" which are made for resale without the agreement of Hartwigmedia.
3.4 Usage that contravenes the laws of the Federal Republic of Germany, the European Union or is harmful to the public order or public morality is not allowed.
3.5 External Music Studios and Audio Producers are not allowed to use any of the audioproductions from Hartwigmedia neither as non-commercial nor as commercial version. Publications of the audioproductions or parts of them under another Name or Label are strictly forbidden.
3.6 Hartwigmedia Audio Productions can not be registered at any PRO Performing Rights Organisation worldwide (e.g. GEMA, SUISA, BMI, ASCAP etc…). This is also valid for own created Voiceover Productions regarding the music parts (e.g. Audiotales, Meditations etc..).
Any costs or losses arise from registrering Hartwigmedia Audio Productions at a PRO will be assumed by the licensee that registred the audio productions.
3.7 In general it is not possible to license the music productions for one of the following purposes:
– known unlawful usage
– for projects with pornographic content
– registering the music at a PRO (performing rights organisations)
– registering the music at the so called Youtube Content ID program
All incidental damages arise from the above stated restrictions have to be fully acquit by the person who violated them.
3.8 Youtube Clearance
Hartwigmedia makes use of the Youtube ContentID System. The customer can submit the link to his Youtube Video after purchasing a commercial license to Hartwigmedia for clearance. Hartwigmedia therefore has a form (https://hartwigmedia.com/youtube-clearance/?lang=en). The customer is responsible to submit the video to Hartwigmedia for clearance. Hartwigmedia can not been hold responsible for any losses or claims arising from the Youtube ContentID system.
4.1 The laws of the Federal Republic of Germany applies, with the exclusion of UN sales law, as well as of the conflict of laws standards of international private law.
The place of performance is to the extent that it is legally permissible Radolfzell am Bodensee, Germany. The jurisdiction for all disputes is Radolfzell am Bodensee.
4.2 If all or part of any term of this agreement is wholly or partially unenforceable, the parties or a court of competent jurisdiction, shall put in place of such whole or part provisions, that nearly reflects the terms of an unenforceable whole or part provision.
4.3 Hartwigmedia shall not be liable for any damages, costs or losses arising as a result from using the audio content by the customer or the context in which the audio content is used by the customer.
4.4 You acknowledge that you have read this agreement, understand it and had an opportunity to seek independent legal advice prior to agreeing to it. You agree to be bound by this agreement. Hartwigmedia reserves the right in case of a commercial licensing of the audioproducts, to name the customer and/or the projectname of the customer (customer logo and/or link to customers website) on the Website (www.Hartwigmedia.com). There will be no transmission of the customer data to a third party of any kind.
4.5 All prices in the shop are before tax. The legal required tax of your country for music productions comes on top of the listprice and stated in detail in the cart and during the checkout.
4.6 Digital Goods like eBooks, software and audio data are excluded from restitution due to the nature of the products (§312d, Abs.4 Ziff1, BGB)
4.7 All music productions will be provided as digital downloads. The customer has to take care that the email address he provides during the purchase process is valid, as the download data will be submitted to this email address.
4.8 EU Residents
Due to a binding law of the EU Nr. 524/2013 we include the following online link for clearing online disputes:
http://ec.europa.eu/consumers/odr/
§5 Content ID, Copyrights Claims and Whitelisting on Youtube
5.1 Copyright Claims on Youtube: When you purchase an instrumental license from the Hartwigmedia Musicshop and upload your song to YouTube, you may automatically receive an automatic copyright claim from our partner AdRev as service provider. Please refer to our Youtube Page for further information and how to deal with that or use our Youtube Form to submit your video for whitelisting.
5.2 Content ID System for Youtube and other Services (like Soundcloud):
You are not allowed to submit your recorded Song to YouTube's Content ID System via your Distributor (e.g. CD-Baby) or any third party knwon as content ID service provider (e.g. AdRev). Per YouTube's Content ID application terms, Royalty Free Music that is Non-Exclusively licensed cannot be submitted to the Content ID system (please have a look here). All music from Hartwigmedia.com is licensed on an non-exclusive base. If you are registering our music by a content ID service provider it will create false copyright claims between license-holders. We reserve the right to request removal of your song from the Content ID System if you are found to be in violation of these terms.
5.3 Youtube Clearance and Monetization: As a complimentary feature, your license grants rights for you to monetize your song on YouTube through your own YouTube Channel and/or AdSense Account only (not via Content ID). Therefore you have to use our Youtube Clearance Form and we will whitelist your video.
5.4 You are not allowed to submit your song to any company for the purpose of utilizing audio fingerprinting technologies.